Carrot Salad With Garpes Dressing
Salad | How To Make Salad | Carrot Saladd Recipe | Easy Salad Recipe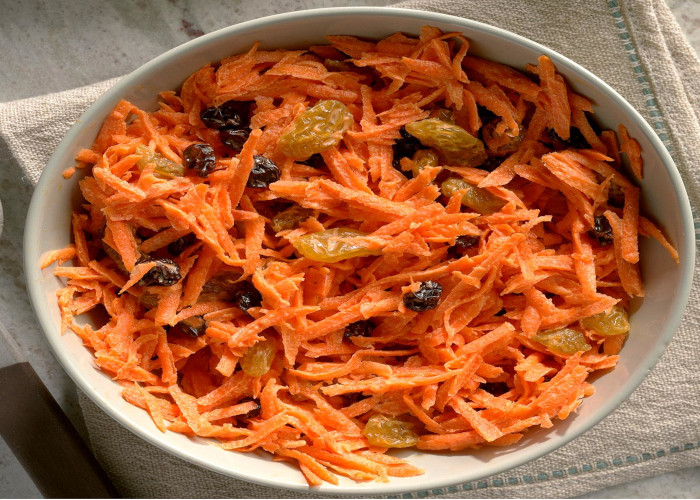 The picture of a perfectly healthy salad featuring fresh produce tossed in delicious dressings will surely leave an everlasting impression in a foodie's mind. An easy and elegant way to consume foods without losing its nutritional value and leaving a hole in the pocket, salads form an essential part of the modern diet and have attracted a huge fan following due to the wide variety of choices available and the liberty to mix and match according to personal preferences. In contrast to the usual perception of salads being bland, boring and not fulfilling, they can be creative and balanced, healthy and tasty, simple and a meal in itself.
Thanks to the Roman Empire for bringing up such a nutritional but tasty amalgam of fruits and veggies drizzled in salt and salad oil, stirred with vinegar and presenting as an excellent appetizer. From Salata to Sal to Salad, it has had a real long journey to penetrate the minds of food enthusiasts. Even though the Roman Empire fell, the salads paved its way to other countries, with variations that suited the area's culinary culture and preferences. The Garden Salad of Rome still tops the list.
Salads are often seen to fall into five principal categories, namely, green salads, vegetable salads, fruit salads, mixed salads with meat, poultry or seafood and salads with pasta, legumes or grains. Traditionally, most of these are served cold but a few like the German potato salad are served hot. Caesar salad from Mexico is a popular green salad, with a seasoned dressing of anchovies, olive oil, lemon juice, eggs and parmesan cheese. The julienne salad of the USA and the salade nicoise of France are the perfect examples of the salad transforming into a light entrée with the addition of meat, poultry or seafood. The most popular dressings include Ranch, Caesar, Thousand Island, Balsamic Vinaigrette, Italian dressings and Olive oil.
With the kitchens and cafeteria of companies, restaurants and street cafes creating traditional and modern versions of salads from across the world, it is time that we try our hands at preparing one of them. So, let's grab some fresh produce, season it with homemade dressings and satiate our taste buds with some delicious, healthy and elegantly presented Carrot Salad with Grapes dressing.
INGREDIENTS
FOR SALAD
| | |
| --- | --- |
| CARROTS SHREDDED | 2 CUPS |
| RAISINS SOAKED | ¼ CUP |
| ALMONDS OR PISTAS OR CASHEW NUTS (CHOPPED) | ¼ CUP |
| PINEAPPLE DICED | ½ CUP |
| APPLE DICED | ½ CUP |
| GRAPES DICED | ¼ CUP |
| KIWI DICED | ½ CUP |
(*can include any other fruit according to your taste*)
FRENCH DRESSING
| | |
| --- | --- |
| OLIVE OIL | ¼ CUP |
| VINEGAR or LEMON JUICE | ¼ CUP |
| SUGAR POWDERED (OPTIONAL) | ¼ CUP |
| MUSTARD POWDER | 1 TABLESPOON |
| GARLIC CHOPPED | 1 TABLESPOON |
| ONION CHOPPED | 4 TABLESPOONS |
| SALT & PEPPER | TO TASTE |
(*can use yogurt or veg. mayo as a replacement according to your taste*)
BLACK GRAPES DRESSING
| | |
| --- | --- |
| BLACK GRAPES | 1 CUP |
| GARLIC CHOPPED | 2 TABLESPOONS |
| ONION CHOPPED | 2 TABLESPOONS |
| RED WINE VINEGAR | 2 TABLESPOONS |
| OLIVE OIL | 4 TABLESPOONS |
| HONEY | 2 TABLESPOONS |
| GREEN CHILLY | 2-3 no.s |
| SALT & PEPPER | TO TASTE |
HOW TO PREPARE
Mix all the Ingredients for Carrot Salad in a bowl and keep it aside.

Put all the ingredients except olive oil mentioned in the table for French Dressing in a blender and start blending. While blending add Olive Oil slowly.

Mix the dressing into the Carrot Salad gently with a wooden spoon or spatula.
(Yogurt or veg. mayonnaise is an easy option for French dressing)
Put all the ingredients for the grape dressing in a blender and blend till smooth.

Top the salad with this dressing and serve it fresh.
Whole heartedly, we can serve our heart, a healthy, rich in taste salad to beat the heat and feel refreshed.